Grandmaster Anton Korobov from Ukraine will be our today's guest. On the last tournament Aeroflot Open 2010 he has taken a pure second place.
What can you say about Vietnamese chess players?
First of all they have very big odds. It was very difficult to prepare to Nguyen in the last round as computer on inquiry gave me many namesakes. It was very difficult to define your opponent just by name. It is very popular surname there, as Ivanov here. Vietnamese players have proved very solid and strong play.
They correctly staged work. First of all, this may be due to the presence of Evgeny Bareev who works there on a permanent basis. It is evident that they invest money in chess, and it gives the result. They are also very hardworking people.
How much time took you to prepare for each game?
Usually for me it takes about 2 hours. The exception was the game with grandmaster Ivan Cheparinov. I had to prepare for him somewhere for 3 hours. But the preparation before a game with Arkadij Naiditsch took only 15-20 minutes. I understood that he will have to play fundamentally and aggressively, and will deal more on during the play. He has very wide opening repertoire, so it is difficult to guess the variant, but, as shown by the course of events, I choose correct concept. Anyway Arkadij made move Bg5, it was a surprise for me, as he previously thus never played, at least the last 2 years.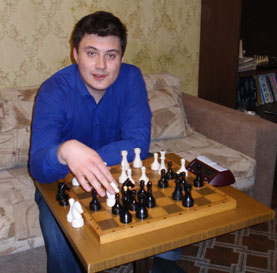 grandmaster Anton Korobov

What was the mood before the last round? Did you thing of making a draw and secure a very good result?
Just before the tour we are with my comrades from the Moscow club PGMB went to the Georgian restaurant, Metro Chertanovskaya, I recommend to all. Accounting has shown that I must play to win. That means that my mood was very militant. It was possible to ignore the financial factor, just play chess. One must calculate income only after the last round, according to my coach.
What about loosing game to gm Sergey Grigoriyants?
I lost the game primarily due withdrawal from the scientific paradigm. I rejected a proposed draw and started to play very aggressively, to "rape" a position. And when the smoke cleared, I realized that I was left with nothing. After the 40-th move I had to resign immediately.
Did your girlfriend help you?
She played a very important role. She gave me emotional stability. Half an hour talking by phone after game, a little brainwashing, and I am ready, like a new penny.
After which round did you acquire confidence that you are in good shape?
I gained confidence after the second round. I lost one game, any illusions were gone that I must necessarily win the tournament. I got discipline and composure, desire for scientific play. I had never stopped thinking about result, but managed to discipline the play, without those good results do not happen.
On Aeroflot Open participants.
Everyone has made an impression for me. Vachier-Lagrave and Bacrot impressed by their preparation. Obviously, they made a lot of work on chess and over the openings. Also I have to mention the Vietnamese players. Le Liem impressed me by struck integrity and Nguyen by tactical ingenuity.
About future plans.
I want to go in good shape for the European Championship. The tournament will be a very decent – will play 60-70 players with Elo above 2600 points.
How to get to round-robin tournament?
One should hold a very high rating a long period of time. And sooner or later one of the organizers will send an email: "Could you have some time…How about to come and join our event?" And you could become there permanent member. Of course there are other ways.
On PGMB team.
I am very grateful to Andrei and Sergei Maksimov Karpunkovs for created around me a good emotional background throughout the entire tournament. The team is strong primarily internal spirit team. The main requirement for chess is not so much a high level, as with the spirit PGMB.
About Moscow.
At this time I badly prepared for the visit to Moscow. I had though, would be a good thing a month or two before the trip to practice Uzbek language. It was hard to communicate with taxi drivers. The way to a tournament and back took me about 3-4 hours each day – a normal process.
How many hours do you spend on chess?
Eight hours each day.
About playing with computers.
It is the required element to play some positions with computer before a tournament. The analysis is also useful, but in skilled hands. It should be properly structured, organized. Is desirable to make system – independent study of problematic items at first, and setting their own, biological truth, and then compare it with the truth of silicone.
About Dutch defense.
Suffice it viable. Like Leningrad variant. But in the capable hands it is possible to breaks the wall. I want to learn it but have no time on this.
Did you watch House MD?
I haven't seen this show before. But I'm going to do this in future.
Thank you for the interview, wish you luck and see you later on tournaments!
Questions asked by members of Grossclub.
3.03.2010