Hi Yuri, thank you for your agreement to give an interview for the site GrossClub.com. As usual, you can tell about the things that have not been asked. I think people will be interested.
How did you start to play chess, why exactly did you choose this sport?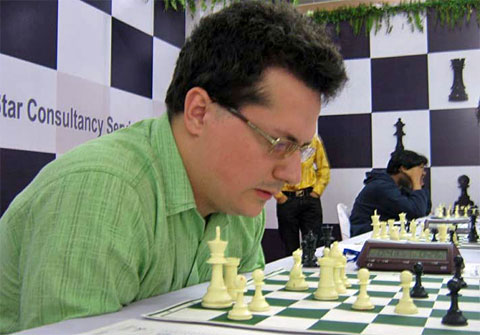 GM Yuri Drozdovskij

I was 6 years old when the brother explained chess rules for me. Since then my life is inseparably connected with chess. In such age you don't make informed choice, but simply do what is interesting.
It's known that you won the tournament in India. Tell a little about the country.
I have been to India before. The expression is controversial. It has enough of poverty, dirt … But the situation is improving. India is one of the most developing economics.
Chess is truly loved here! For me, as the winner of the tournament, people asked to make a photo with them one after another. It was about 50 people! I do not imagine that at the European open tournaments. Also gave a huge number of autographs… I remember the girl who cut out newspaper photos of all grandmasters, glued to every page of her notebook and we signed her pictures.
City of Bhubaneswar is sometimes called the City of the Gods: there are about 500 temples, the most ancient we have been visited. We could see more, but the average temperature of +45 C is not conducive to long walks.
What can help chess to gain popularity? Are there any suggestions?
For chess, it would be extremely useful to join Olympic family. Something made for it, but the way is far. Olympic sports are at a different level of state support in most countries.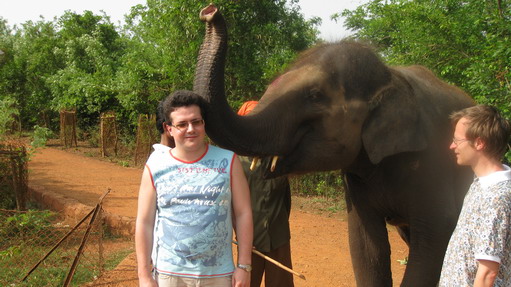 Yuri with GM Sergei Tiviakov

Which country can you recommend to visit? Please tell about your favorite country.
Chess players usually travel a lot and I have been in many countries. Each is interesting in its own way. For example, in India you can feel like a rich man with $100 in your pocket. It's a strange feeling for the European. In China, where would you not go, many people accompany you. And the most popular places are very crowded. Western Europe pleases by benevolent people and adjusted life.
In your opinion, which player will dominate the next 10 years?
In my opinion, time of hegemony has passed. I think in the top will be a group of players, and over the years, this group will be growing.
Are there any plans for future journeys?
Yes, in August, I am going to visit Arcticchess 2009, Norway, and in October will participate at the European Club Cup for the team PGMB.
Regarding the decision making method. Is there a way to win games with opponents, much (300 points) weaker than you?
There are some basic principles:
Avoid underestimating the opponent. Even if he has a low rating, in a separate game he can play as a grandmaster.
Be well-prepared.
Play with full rush, using every chance.
Is it hard to get a visa to Europe as a sportsman? Is there a queue at the embassy?
Queues at the embassy are always the case. Whether you are a sportsman or not, you need to pass the usual procedure: contact the embassy in advance (at least for a month, usually more) for an interview, to bring all necessary documents and to wait at the embassy … I remember, several years ago one woman has bees taken away by ambulance. As the other visa applicants, she was standing on the street, waiting her turn, and got sunstroke.
In general, the situation is difficult and we all look forward to the integration of Ukraine into Europe, then we will avoid unpleasant procedure of obtaining a visa.
What is your car brand?
I have no car. Being in travels of up to six months of the year, I do not think car is necessary. It is good, that in comparison with Western Europe and USA, taxi in Ukraine is quite cheap.
Is it possible to earn for a life just playing chess?
To earn money playing chess is very difficult. Just play strong is insufficient. You should be able to negotiate with the organizers and owners of clubs… And live in a cheap country! In general, make good money for grandmaster with the ELO up to 2700 is very difficult. Therefore, more and more chess professionals become poker professionals …
Do you have a permanent coach? If not, would you like to have?
I do not have a permanent coach. Earlier long-term Karpov assistant Michael Podgaets periodically helped, but recently he died…
Of course, to work with a coach is easier, but at the moment I do not think it's necessary, I am able to be coach for myself.
Yuri, thank you very much for the interview! We hope to see you later here again.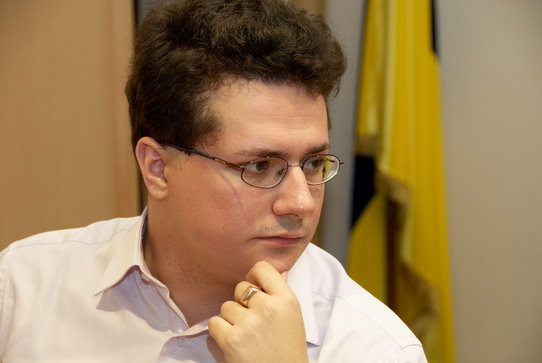 Yuri Drozdovskij