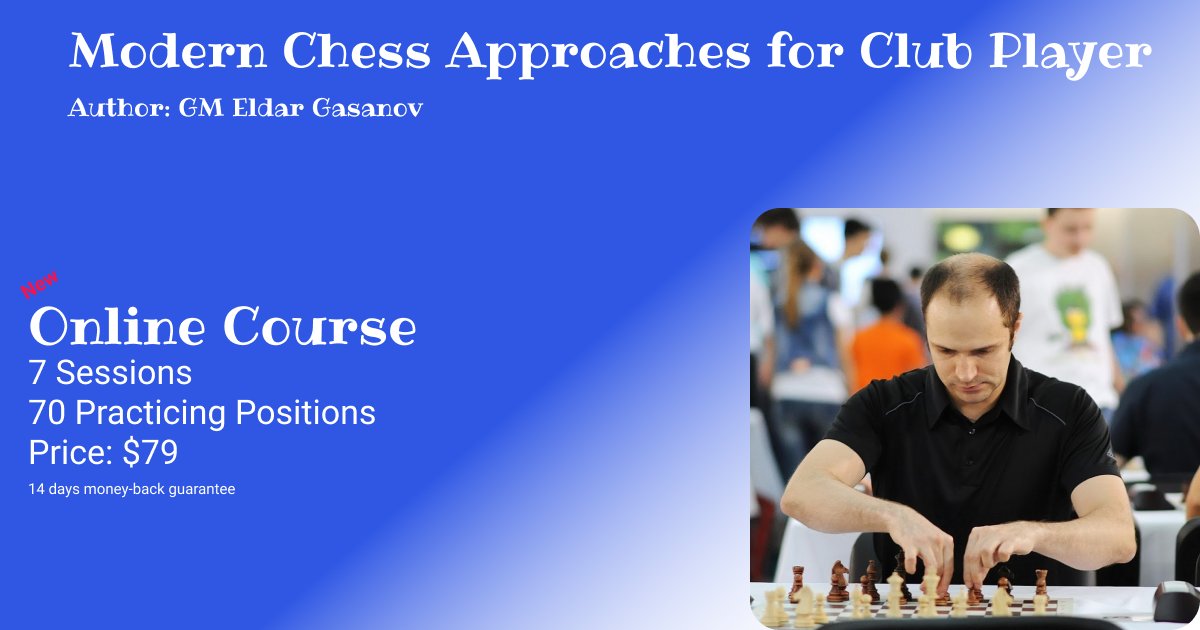 The Course Plan:
Week 1. Modern chess openings fighting for the initiative with White.
Week 2. Choosing the right moment for attack.
Week 3. Modern opening repertoire for taking initiative with Black.
Week 5. The principles of defence in tough positions.
Week 4. Endgame technique in equal positions.
Week 6. Creating targets in middlegame.
Week 7. Art of maneuvering.
In this comprehensive chess course GM Eldar Gasanov will explain a lot of important principals one by one. Every week you will receive a new video with the next topic. This course covers opening, middlegame and endgame stages with many crucial principles. You will learn how to deal in equal positions, to choose the right moment for attack, to create a plan at middlegame and many others useful topics.
He also explains in details how to build up openings repertoire for White and Black which will take your play to the next level. The video course contains positions of Garry Kasparov, Anatoly Karpov, Vasily Smyslov and others top players. It is ideally suitable for club players.
After each week you will also receive a collection of training positions to practice materials.
Total Duration: 3h 30 mins., 7 Weeks.
70 training positions for practicing.
Price: $79.
14 days money-back guarantee.
About the author:
Eldar Gasanov is a practising chess Grandmaster, an experienced coach and a holder of a Master's degree in Psychology. He is a winner of numerous international tournaments in classic, rapid and blitz.
He worked as a coach at Singapore for two and half years with young players and sportsmen. During his career Eldar Gasanov assisted several well-known Grandmasters including former Women World Chess Champion Anna Ushenina and others.
Order the course here: https://forms.gle/vXswNooc89doqz6x6